CINE365
The International Latino FilmSociety's quality program of year round film screenings is expanding and has a new identity - CINE365! You don't have to wait for theInternational Latino Film Festival in November for great Latino films.CINE 365 presents curated programs and year round screenings all over the Bay Area.
UPCOMING EVENTS

"Despues de la Neblina"/"When Clouds Clear"






Roxie Cinema 3117 16th Street San Francisco, CA
Friday, Oct 24 2008 @  5:00 pm  &
Thursday,Oct 30, 2008 @ 9:30 pm at
Shattuck Cinema - 2230 Shattuck Avenue Berkeley, CA 94704 Wed. Nov 5 2008, 7:15 pm
When the Clouds Clear is a remarkably intimate look at the struggle of one small town to protect itself in the face of capitalist conglomerates. As discord and confusion rip through Junín from outside pressures, relationships begin to splinter apart from within, pitting friend against friend and father against son. But with the senseless killing of one of its citizen, the community coalesces into a united resistance in what is quickly becoming a perilous battle for survival.
Spinnin (6 Billion Different People)




Thursday October 30, 2008
La Peña - 3105 Shattuck Avenue
Berkeley, CA 94705
A whirlwind adventure that celebrates life, love, and everyting in between as we follow a young guy couple in mid 1990's Madrid as they an their friends deal with issues of having children, marriage, divorce, and more.
La leyenda de la Nahuala/ The Legend of the Nahuala




The 12th. International Latino Film Festival at Pickleweed Community Center present:
La leyenda del Nahuala / The legend of Nahuala
Sunday, November 16th, 2008 @ 2:00 PM
Pickleweed Community Center
40 Canal Street. San Rafael, CA 94901
La leyenda de la Nahuala/ The Legend of the Nahuala, an animated feature in which Leo, a nervous nine year-old is taunted by his brother Nando's stories of ghosts and haunted houses.  An evil witch, La Nahuala, kidnaps Nando and Leo must rescue his brother.
Watch the trailer here: http://www.youtube.com/watch?v=qpm7KJfbuaM



MALDEAMORES/LOVESICK




The 12th. International Latino Film Festival at Pickleweed Community Center present:
Maldemaores/Lovesick (in Spanish with English subtitles)
Sunday, November 16th, 2008 @ 4:30 P.M
Pickleweed Community Center
40 Canal Street. San Rafael, CA 94901
"Maldeamores/Lovesickness" is a Puerto Rican roller coaster series of love stories about a boy who encounters love for the first time, a triangle of elderly people, and a dejected bus passenger. Great Puerto Rican music.
Watch the trailer here: http://www.youtube.com/watch?v=0kqNGq1VVX4





RECENT EVENTS



Postales de Leningrado/Postcards from Leningrad

The International Latino Film Society (ILFS) and the San FranciscoChapter of the National Association of Latino Independent Producers(NALIP) are proud to co-present the benefit screening of Postales deLeningrado (Postcards from Leningrad, Venezuela, 2007).
FILM WITH ENGLISH SUBTITLES!

Tuesday, September 9, 2008 @ 7pm
Brava Theater
2781 24th street
San Francisco, CA 94110
Proceedsfrom this event will benefit the arts education programs of the ILFS,including Youth in Video and the annual International Latino FilmFestival -San Francisco Bay Area. The film will be followed by aQ&A with invited director Mariana Rondón and producer Marité Ugás,a wine reception, a Don Julio tequila tasting, tapas, and live music!
$35 General Admission $30 Students, Seniors, & ILFF Members.
Co-presented by the San Francisco Consulate General of Venezuela!
Buy tickets now:
http://www.brownpapertickets.com/event/41720
Watch the trailer here:
http://www.youtube.com/watch?v=V6rDl7bCW28
August Screening


" NOCHE DE CINE Y POESIA" Films with English Subtitles
Thursday August 28th, 2008 @ 7:00 P.M
La Peña - 3105 Shattuck Avenue
Berkeley, CA 94705
$6 General, $5 ILFF Members
"Lorca: así que pasen cien años" (Dirs. Javier Rioyo and Jose L. Lopez-Linares, 55 min., Spain) This beautifully crafted and rich documentary celebrates Lorca's life through a look at his friends, his music, and the cultural and political movements that influenced his work.
"Tres/Three" (Dirs. Anna Christopher, Paula Christensen, Robert Weiermair, USA/Brazil, 26 min.) Three unique short stories share the same heart- an intense but fleeting moment of emotional connection between two people; based on the poetry of acclaimed Argentinean filmmaker, Carlos Hugo Christensen.




Karma - Music & people from around the World!


Karma - Music & People from around the world!
Friday, August 1, 2008 at 10:00pm
Saturday, August 2, 2008 at 2:00am
Butterfly Restaurant - Pier 33. San Francisco, CA
DJ Nica and the International Latino Film Festival bring you an amazingnight of the best music from around the world by DJ Nica & DJ A.C.Also, live performance by Kerensa DeMars and Son Flamenco. Be part of abeautiful & friendly crowd while dancing to Salsa, Reggae, Cumbia,Samba, Funk, Afro-Cuban, & more.
This event is benefiting the 12th. International Latino Film Festival - San Francisco Bay Area: www.latinofilmfestival.org
Check out the pictures here:
www.djnica.com
The International Latino Film Society, The Ethnic Dance Festival, and Lucuma Films present:

SOY ANDINA/ I AM ANDEAN

Q & A with Filmmaker & Live Dance Perfomance &
After party dinner-dancing event at Peña Pachamama
Thursday, June 26, 2008 | 7:30 PM
Brava Theatre
- 2789 24 Street, San Francisco, CA
General admission $12 | students & seniors, disabled $10
Tickets can be reserved at the discounted price of $10 by email: rsvp@latinofilmfestival.org - Tickets also available at the Brava box office one hour before the show.
Soy Andina is a film about Cynthia Paniagua, a modern dancer raised in Queens, and Nelida Silva, a folkloric dancer from the Andes. Cynthia and Nelida both journey to Peru to reconnect with their roots and the world of folkloric dance. Cynthia Paniagua will perform a 10-minute dance solo after the screening and director Mitchell Teplitsky will be present for a Q&A session.
Soy Andina premiered at Lincoln Center in 2007, toured Peru on a U.S Embassy program, and is currently screening at festivals and cultural centers nationwide. Cyntia Paniagua is a dancer/ choreographer who won a Fulbright grant to study dance in Peru. For more information visit:
www.soyandina.com
&
www.latinofilmsociety.org
Dinner-Dancing Event @ Peña Pachamama:
Please join us after the screening for more music, dancing and celebration at an exclusive dinner-performance in North Beach!
10:00 PM
- Eddy Navia, director of Sukay and founder of the renown Bolivian group Savia Andina joins Peruvian dancer Eleana and Flamenco dancers for a unique and outstanding performance!
* $1 off on mojitos, margaritas, martini cocktails and wine
* 50% discount on the show cover ($5 only!)
Peña Pachamama
| 1630 Powell Street, San Francisco
One of those magical places... a little island of the future where those who enter her doors are forever transformed by the spirit of the music and dance that takes them in. You'll find it on a little side street in San Francisco's old Latin Quarter somewhere between Chinatown, Fisherman's Wharf and endless Italian late-night cafes -
http://penapachamama.com
ILFS Co-presents with QUELACO (Queer Latino/a Artist Coalition):
Dias de Boda | Wedding Days

Thursday June 12, 7:00pm
Galería de la Raza

2857 24th St, San Francisco

General Admission: $7
Dir. Juan Pinzás, Spain, 2002, 104 min.


Sonia, the beautiful daughter of an important publisher, believes herlife's dream will come true when she marries Rosendo, a handsomewriter, until he turns out to be gay. The wedding celebration bringsunexpected surprises for all the guests, reveals the truth about thewedding party and causes the bride, who longed for this day, to wishthe moment would never come when she'd say "I do". The Dogma filmstyle, lovingly executed with natural light and sound, and shotentirely at the beautiful Galician parador of Bayona, creates intimacywith the troubled characters. Spoken in "Gallego", this is the secondDogma film produced in Spain by Pinzás.

Mojado: el documental indocumentado | Wetback: The Undocumented Documentary
Saturday June 7, 6pm, San Jose Public Library
Educational Park Library
1770 Educational Park Dr.
San José, CA 95133
(408) 272-3663
Arturo Pérez Torres/Canada, Honduras, Guatemala, Mexico, Nicaragua/2004/87 min


It's estimated that each day 3000 Central Americans embark on thetreacherous journey north to the U.S.; fewer than 300 ever make it.Canadian Director Perez Torres made this documentary by accompanyingfive Nicaraguan migrants on every step of their journey, documentingtheir struggle in alarmingly revealing and provocatively objectivedetail.

Se estima que cada día 3000 personas se embarcan en la peligrosatravesía al Norte, pero sólo 300 consiguen llegar a su destino. PérezTorres acompaña a estos emigrantes en cada paso de ese recorrido,exponiendo honestamente este esfuerzo con reveladores y provocativosdetalles.

ILFS Co-presents with the 1st International San Joaquin Film Festival:
Nonna's Trip (El Viaje de La Nonna)



Director: Sebastiàn Silva
Central Valley Premiere
Wednesday, June 4, 2008 | 6:45PM
Bob Hope (Fox) Theatre
93 min | Mexico | 2007 | Opening Night Gala Film #1
La Nonna, grandmother ofthe Todaro family, forgets everything. Almost. The one thing she won'tforget (and keeps insisting on) is her last wish - to go to Italy, tothe village of Todaro, the birthplace of her beloved, deceased husband.This is a charmingly funny, ultimately touching story of a familyunited by love for their grandmother.
OPENING GALA & CELEBRATIONS


•At 5:45PM, start the Gala with an official ribbon-cutting, pre-show ofentertainment, and treats from Downtown Stockton restaurants
• At 6:45PM, enter the theatre for the Gala program, featuring theOpening ceremonies and the screening of the first film "El Viaje de LaNonna."
• Next, patrons can: proceed at 8:45PM to the rooftop terrace of thehistoric Hotel Stockton for the "With the Stars" Opening Night Party atParagary's Skyview Terrace at Hotel Stockton
• or attend the 9:10PM screening of the second film "The Clown and the Führer.




ILFS Co-presents with the 1st International San Joaquin Film Festival:
Director: Almudena Carracedo
Saturday, June 7, 2008 | 4:00 PM
Sockton Empre Theatre
93 min | Mexico | 2007 | Opening Night Gala Film #1
María, Lupe and Maura arethree Latina immigrants struggling to survive in Los Angelessweatshops. But one day, determined to win basic labor protections,they embark on a three-year odyssey that will transform their livesforever. Compelling, humorous, deeply human, Made in L.A. is a storyabout immigration, the power of unity, and the courage it takes to findyour voice.




CINCO DE MAYO FUNDRAISING EVENT!


Monday, May 5 from 9pm-2am
, Elixir Charity Guest Bartending

, 3200 16th Street, San Francisco


Everyone knows that ILFS parties are the best, but the partyjust got better because on
Cinco de Mayo
all of the proceeds from tips willbenefit the ILFS!

ILFS staff will be behind the bar serving you frostymargaritas! Guest bartenders include Associate Director, Kerensa DeMars;Programming Associate, Charlotte von Hemert and Development Officer, LouRamirez!

Drink up for the Latino Film Society and the great films we bring youfrom
Spain
, Latin America and Latinos in the US! The Brickhouse Cafe will be grilling delicious Mexican burgers outside!
PROIBIDO PROIBIR | FROBIDDEN TO FORBID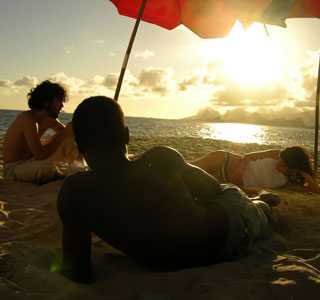 Wed. May 21, 7pm
, Richmond Public Library

325 Civic Center Plaza, Richmond

Free screening
Dir. Jorge Durán, Brazil, 2006, 105 Mins.


Tragedy occurs when Paulo, a young medical student, and his tworoommates - the romantically involved León and Leticia - try to helpthe family of a terminally ill patient, Rosalina, from the favelas ofRio de Janeiro. Their youthful idealism is shattered by the reality ofpolice brutality that exists in Rio today and their friendship istested when a change in Leticia's feelings for Paulo sends the trio onan emotional roller coaster. But the personal feelings within thetriangle are overshadowed by their mounting concern for Rosalina'syoung son Cacao, as the three struggle against all odds to save himfrom the injustice that favela dwellers face at the hands of thepolice. "Proibido proibir" is a cutting statement about racism and theplight of the poor in today's Rio, but it is also a poignant look atthree young students as they search for love and identity on the roadto adulthood.
CARNAVAL CELEBRATION: VINICIUS AND BRAZILIVE

Thursday May 22 Percussion Class: 6:15pm, Film: 7:30pm

Mission Cultural Center for Latino Arts

2868 Mission St., San Francisco

General Admission: $8, $6 students, seniors, disabled

Dir. Miguel Faria Jr., 2005, Brazil/ Spain, 120 mins.


For Brazilian music lovers, this is an outstanding portrait of thelegendary Vinicius de Moraes (1913- 1980): poet, musician, composer anddiplomat. Beautifully structured, this award-winning documentary is asuperb mix of performance, storytelling and biography. Through archivalfootage and in-depth interviews, "Vinicius" brings to life the poeticand musical genius of this mythical figure of Brazilian culture. Wehear from the greats of Brazilian music: Joåo Gilberto, Chico Buarque,Caetano Veloso, Maria Bethânia, Gilberto Gil, and Antônio Carlos Jobim.Throughout his life Vinicius was influenced by Afro-Brazilian culture,and in his "Samba of the Blessing" wrote, "I am the most black whiteman in Brazil." This film revels in Vinicius' immense love of music,his friends, his nine wives, whiskey and - most of all - life itself.

BraziLive night!

Join the ILFS at the after party at El Rio, where you can listen tolive Brazilian music and drink Caipirinhas and Guaraná sodas at thebar. Admission: 21 yrs and over; Cover $8. Free with ILFS film ticketstub!
To purchase tickets call the Mission Cultural Center for Latino Arts Box Office: 415-643-2785
638 WAYS TO KILL CASTRO


Tuesday April 22, 7pm

@ Mission Cultural Center
2868 Mission St, San Francisco CA 94110
http://www.missionculturalcenter.org
2006, Dollan Cannell, 76 Mins, Feature Documentary
This shockingly objective documentary tells how the CIA and Cubanexiles have made 638 attempts on the life of Fidel Castro. Amazingarchival footage and interviews with would-be assassins reveal theincredible cloak-and-dagger plots, from employing the mafia heavies, tonoxious gas and exploding cigars, and the bizarre lengths the UnitedStates has gone to trying to end Communism in Cuba. We see how John F.Kennedy asked Ian Fleming, the creator of James Bond, for advice onending the Castro regime. But perhaps most controversial are the clipsof Florida Congresswoman Ileana Ros-Lehtinen welcoming just aboutanyone interested in assassinating Castro. This documentary, byBritain's Dollan Cannell was initially screened in Cuba, only to belater banned for showing the revolutionary government in a bad light.Find out exactly what the CIA has been up to on behalf of the Americanpeople.
MY MEXICAN SHIVA


Thursday April 17, 7:30pm @ Jewish Community Center of the East Bay
1414 Walnut Street
Berkeley CA 94709
Hebrew/Spanish/Yiddish (English Subtitles)
When the exuberant patriarch of a Mexico City family dies of a heartattack in the middle of a raucous mariachi party, he leaves behind acomplicated web of secrets that must be untangled over the course ofhis seven-day shivah. In this sly and charming dysfunctional-familydrama, the comically unraveling shivah will bring those he left behindto account for themselves. Director Alejandro Springall commissionedrenowned Mexican Jewish writer Ilan Stavans to develop a story set inMexico City's small but vibrant Jewish community (in a city of eighteenmillion, there are fewer than 20,000 Jews), which was published as thenovella Morirse está en hebreo (Dying in Hebrew). Springall's colorfuladaptation is an affectionate, tearful party that's hard to leave.
Jewish Community Center of the East Bay
www.jcceastbay.org
.:: CINE365 JUNE SCREENINGS ::.

Super Amigos | Super Friends

Wednesday, June 18 - FREE SCREENING
Richmond Public Library
325 Civic Center Plaza, Richmond
Dir. Arturo Perez Torres, Mexico,2007, 82 min
Their masked wrestling costumes suggest this is a "Nacho Libre" spoof.But just wait. These five comic-book superheroes champion the causes ofMexico's oppressed in a vivid and realistic documentary. Super Barrio,a tenants' rights activist, prevents the eviction of the poor from abuilding bought by corporate interests. Super Animal protests thebarbarity of bullfighting with graphic demonstrations at Mexico City'sCity Hall. Super Gay fights homophobia by visiting the parents of itsvictims in their homes and by teaching gay pride. Fray Tormentachampions homeless children as a professional wrestler by raising moneyfrom his winnings for orphanages and schools. And Ecologista Universalis an impassioned environmental conservationist who raises awarenessfor his cause in both personal and public ways. Five heart-warming—andtrue—stories of activism, shot with gorgeous cinematography in andaround Mexico City, lead you to believe that super powers are withinthe grasp of us all.
Al otro lado/ To the Other Side

Wednesday, June 18, 6pm
West Valley Branch Library
1243 San Tomas Aquino Rd.
San José, CA 95117
(408) 244-4766
Dir. Gustavo Loza/Mexico/2005/ 80 min.
Thisbeautiful fictionalized story follows the complexities of migrationthrough the eyes of family members who have been left behind. Threecountries, three cultures, and three realities serve as the stage todelve into the lives of three children, each of whom must endure theabsence of a loved one, each wanting to bring them home.
Esta bella historia narrativa cuenta las complejidades de la migracióna través de los ojos de los niños que han sido dejados atrás. México,Cuba, Marruecos, tres culturas, tres realidades que sirven de escenariodesde el cual exploramos las vidas de tres niños que sufren la ausenciade un ser querido a quien quieren traer de vuelta al hogar.
Cruzando Arizona | Crossing Arizona

Saturday, June 21, 3pm
Hillview Branch Library
1600 Hopkins Dr.
San José, CA 95122
(408) 808-3033
Joseph Mathew & Dan DeVivo/ Mexico, US/ 2006/ 95 min.
Heightenedsecurity in California and Texas has pushed illegal border-crossersinto the treacherous Arizona desert in unprecedented numbers – anestimated 4,500 a day. Most are men in search of work, but increasinglythe border-crossers are women and children seeking to reunite withtheir families. This influx of migrants crossing through Arizona andthe attendant rising death toll have elicited complicated feelingsabout human rights, culture, class, labor and national security."Crossing Arizona" examines the crisis through the eyes of thosedirectly affected by it.
Al otro lado/ To the Other Side

Saturday, June 28, 3pm
Biblioteca Latinoamericana Branch Library
921 South First St.
San José, CA 95110
Natalia Almada/Mexico/ USA/2005/ 70 min.
Special guest: Walesa Kanarek, from Amnesty International USA - WEST Field Organizer
Corridosare the "daily archives of Mexican life", told through song. Thisbeautifully filmed documentary recounts the stories of cross-borderdrug and human smugglers, through Mexico's traditional corrido songsand an aspiring composer, Magdiel, whose only hope is to follow in thefootsteps of "The Little Tigers of the North".
Los corridosson el "archivo cotidiano de la vida mexicano" contado en canciones.Este bellísimo documental narra la historia de las drogas y elcontrabando humano en la frontera a través del tradicional "corrido"mexicano relatado por Magdiel, un aspirante a compositor cuya esperanzaes seguir los pasos de "Los Tigres del Norte".
ILFS Co-presentations with Frameline
La Leon

Monday June 23 11:30 amCastro Theatre
Wednesday June 25 7:00 pm Victoria Theatre
Set on a remote island in northeastern Argentina, this artfully shot debut feature simmers with sexual tension. Alvaro is a quiet man who repairs books and harvests reeds. Doubly isolated by his remote home and his homosexuality, he lives simply and doesn't talk much, resorting to hook-ups with outsiders for release. On the more garrulous side of the spectrum is Turu, who pilots the water taxi nicknamed La León because of the sound its engine makes chugging up the river. Turu fancies himself a community leader of sorts because his boat ferries the local population whenever they need to go to town. He's also a loudmouth and a brute, ranting against missionaries, immigrants from Paraguay who've come to work, and Alvaro for being gay. Like most bigots, the captain has some unresolved issues and is alternately fascinated and repelled by the handsome man he transports. To frame the story, Otheguy employs a wonderfully textured black- and-white cinematography with the jungle at center stage. Whether providing Alvaro with cover for a nighttime tryst or drowning out the noise of a more brutal encounter with its own natural clamor, the environment is a keen, impartial observer of the human drama unfolding in its midst. Placed among other recent noteworthy examples of Latin American art cinema including Los Muertos and A Thousand Clouds of Peace, La león heralds the arrival of a new cinematic talent. - ROD ARMSTRONG
A LOVE TO KEEP

Wednesday June 25 9:15 pm Victoria Theatre
SShy, awkward Elvira (Susi Sanchez) and bubbly, forthright Pilar (Carmen Elias) are schoolteachers in Franco's fascist Spain in the early 1970s. They fall in love only to be torn apart when Pilar's parents have her institutionalized, hoping that regular shock treatments will jolt her into heterosexuality. Despite years of separation, the two women find their way back to one another in a newly free Spain. But the happily-ever-after that the couple eagerly anticipates proves elusive when Pilar's mind and body begin to suffer horrific aftereffects from the electroshock therapy. Based on a true story and nominated for an ATV Award (Spain¹s equivalent of the Emmys) for Best TV Movie, Juan Carlos Claver¹s heartfelt drama works on multiple levels: It is a kind of social and legal history of gay life in Spain as, during the course of the drama, Spanish society transforms from the repressive Franco years to today's more open way of life. It is part tragedy, with Pilar subjected not just to shock therapy but to other forms of abuse during her years in the hospital. It is a family story, as Pilar pays the price for her parents' homophobia, and her mother eventually pays a price for what she has done. But above all, it is a moving, romantic melodrama. Sanchez and Elias are luminous and heartbreaking as women determined to let nothing ' not the law, society, family nor illness ' destroy their love. ' PAM GRADY
For more information visit:
www.frameline.org